I believe every website periodically deserves a good makeover.
As your business objectives, services, and products evolve, it's important that your website reflects these changes.
Truth be told, I've made over my blog and website dozens of times since I started blogging in 2007. I started out with a maroon theme on Blogspot with a basic header, but no logo. Then I decided that I wanted to keep the blog "light and airy" and changed the color to a soft pink and created a new logo.
At the time I was making all these changes, I was really just having fun testing out new blog tech tools. I eventually started helping others get their blogs started or giving them a blog makeover.
Since 2007, blogging and website design has changed. With each website makeover, I always included the use of the latest website design standards.
I advise upgrading your website every year or two and here are a few reasons why…
** Disclaimer: This post will contain affiliate links. If you click on the links and make a purchase, I will receive a commission at no extra cost to you.
Why You Need a Website Makeover and Upgrade
Your business objectives have changed and you need your website to reflect your current objectives with new branding.
You want to add a store to your website. Maybe you started out with a basic website that explained your services and told the story of your company. However, now you wish to add a store to sell products or services. Your homepage design will likely change because you will be adding featured store items to your home page.
You want to add a membership portal. A membership portal or section of your website can be beneficial for providing exclusive content for members only. Access to the membership section of your website can be for paid or free subscribers.
Your website gets hit with a virus and malware. Makeovers can also happen behind the scenes of a website. After your website's files are cleaned up on the backend, it may be necessary to start fresh with a new design.
You're not getting traffic to your site. SEO best practices constantly change. For example, when blogging first became "a thing," keyword stuffing was an acceptable practice. However, now we write for humans as a best practice, so keyword stuffing is not acceptable and will get you shadowbanned from search.
You love your customers and you don't want them to get bored seeing the same old content on your site. Your website is your digital storefront. If you never cleaned your windows or changed your displays, how interested would your customers be in paying you a visit?
So whether you decide to hire out a web developer or do it yourself, here are five ways you can makeover your website.
How to Make Over Your Website (Easy Fixes)
1. Change Your Website Theme or Layout (Design)
The layout or theme that you used five years ago may not reflect the business you are in today or may not be easy to navigate. For example, maybe you started out as a blogger and focused on your blog posts on the homepage. However, now you want to be known as a business coach, so your website's layout should showcase your services and your blog in a way that appeals to potential clients.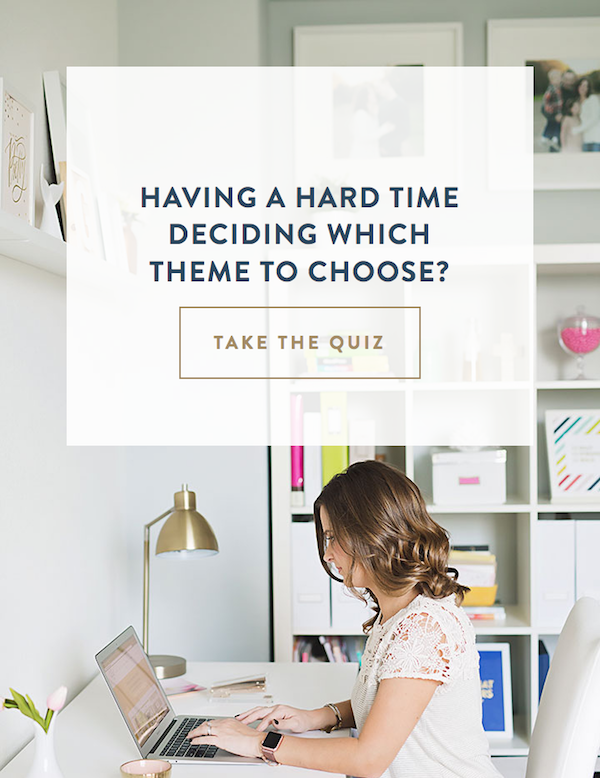 StudioPress has a number of website themes to choose from. Not sure which to choose, contact us here or take a quiz from the Restyled316 website to find a theme that best meets your needs.
2:  Update Your Homepage Photos (Design)
Photos are selling point on any website. Your photos should reflect who you are selling to and your overall brand, whether you decide to use purchased stock photography or your own branded photos taken by a local photographer. Of course all photos you add to your website should be optimized in a way that improves your website's speed. Google has a handy tool to help you check your website speed.
3: Update Your Website's Words, Such as the Headers and Paragraphs (Technical)
Are your goals are the same as they were a few years ago? If not, then why not update your website's words to be SEO-friendly, reflecting your current objective, services, and testimonials. The words on your website can determine how you rank in search engines such as Google. We wrote a post a while back on how to boost your website's SEO.
You can also use the Google Webmaster Tool to see how your website is being found on Google or Neil Patel's SEO Analyzer. Using these tools will help you determine how to rewrite your website's word (a.k.a. copy) for the best results.
Pro Tips: Adding in weekly articles in a blog component of the website will help your customers find you.
4: Add More Video Content (Technical)
According to HubSpot, 72% of customers would rather learn about a product or service by way of video. So could you take your written blog content and create it as a video? Or could you record a video for your About or Services page, in addition to having the written content?
We do it all the time here on the MMOE blog.
Here's an example of a blog post that I recorded as a video as well.
5. Update Your Call-to-Action Buttons (Technical)
Having call-to-action buttons (CTAs) strategically placed on your website is a must to generate more leads. Each CTA should be easy to find and lead your prospect to make a decision to either buy or download one of your cool guides.
In Conclusion
So there you have it, five ways to makeover your website and blog. There are many more ways to makeover a website and blog, but we'll save that for another post.
https://www.makemeovereb.com/wp-content/uploads/2018/02/website-mockup-shutterstock_227053708-72dpi.jpg
1680
1680
Ebony Looney
https://www.makemeovereb.com/wp-content/uploads/2017/12/MMOE-logo-transparent-bgd340w.png
Ebony Looney
2020-06-19 08:00:35
2020-07-03 10:14:47
Five Ways to Make Over Your Website and Get More Traffic